Vacation Bible School (VBS) Vacation Bible School is offered each summer at CCBC.  Due to COVID19 concerns, VBS will be offered for five consecutive Sunday nights starting September 27, 2020. Children, teens, and adults will enjoy Bible study, recreation, snack, missions, and crafts.  Our opening and closing worship rallies are certain to bring a few surprises as well!  During VBS, everyone will discover not only the principles by which God wants us to live, but also the Savior who gives us the power to live out those principles.
2020 Theme: Concrete and Cranes – Building on the Love of Jesus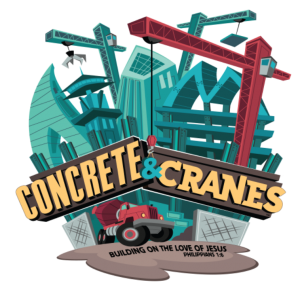 Everyone will learn about a strong foundation that lasts.  As we explore a world of concrete and cranes, rivets and rebar, bulldozers and backhoes, we will learn to build our faith on Jesus and uncover the truth that He who began a good work will be faithful to carry it on to completion.
BIBLE VERSE: "…He who has begun a good work in you will complete it until the day of Jesus Christ." – Philippians 1:6
Register TODAY by going to https://kideventpro.lifeway.com/myEvent/?id=55070 or scan the QR code below.